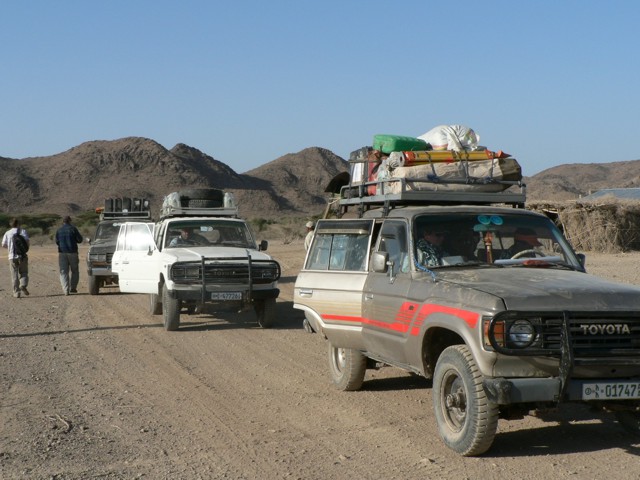 Field vehicles on road from Awra to Digdiga, Afar. Photograph by Tim Wright, University of Leeds.
The DigDongle
21st January, 2008:
This is the first of several missives from DigDiga camp in Afar. Over the past week, we have been gathering, shopping and troubleshooting in Addis and travelling across Ethiopia to meet in DigDiga, a remote village near to the rift.
First impressions of DigDiga:
"Quite Err", Taflan…. "Dusty", Kathy… "Otherworldly", Jon
It's a small village, consisting of about 20 "buildings", situated in a vast, flat plane surrounded by volcanoes. It's pretty remote, two-day's drive from Addis, on increasingly bad "roads". We are occupying a quarter of the compound of the local school, and our group includes scientists from Addis Ababa, Leeds, Bristol, Edinburgh, Oxford, Cambridge, the British Geological Survey, guards/guides from the regional authority, and our drivers, a cook and camp manager. Because Gezahegn and Atalay had invested a lot of time in preparing for our field work, we have had an incredibly smooth run so far.
Yesterday, after meeting the local chief and getting his full support, we started serious work with three groups heading out on day-trips from camp. This morning Jon, Lorraine, Charlotte, Gezahegn and Osman have an appointment to meet camels in a small settlement called Barantu, from where they will head off around Dabbahu volcano for 6 days. The rest of us will be working around DigDiga until the helicopter arrives on Saturday.
Compared to previous Afar field trips this one is extremely comfortable. Kathy's MT group know how to set up camp, so we have an excellent cook, and (unbelievably) even an electric shower – moonlit showers have been enjoyed by several team members (alone).
More people are arriving over the next few days, from France, New Zealand and the US.
Tim Wright, Principal Investigator, Afar Rift Consortium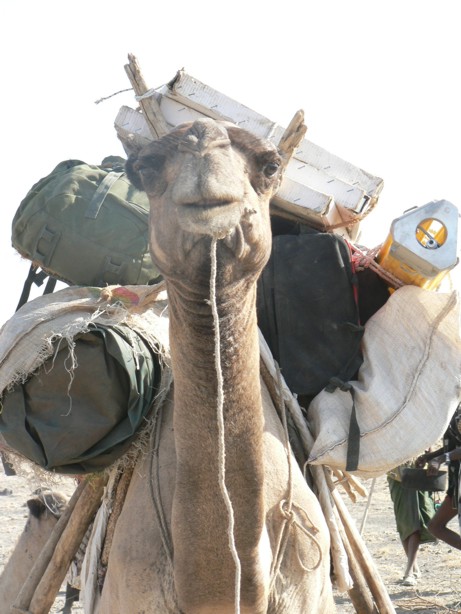 Camel laden with GPS equipment. Photograph by Tim Wright, University of Leeds.
23rd January, 2008:
All continues to go well our here in our hot desert retreat. After a surprisingly cool couple of days when we arrived (it had even rained a few days earlier), each subsequent day has got steadily hotter. Today was 36C in the shade, but much hotter in the sun. Nights are cooler - down to a chilly 15C.
The petrology group are camped on the north slopes of Dabbahu volcano, with their 8 camels. They left Barantu on Monday afternoon after a protracted negotiation between representatives of the two different regions that they would be trekking through – neither wanted all the guards and camels to come from the other region. After a couple of hours of intense negotiations chaired by Gezahegn and Abdu (the Afar Administration's chief public prosecutor, and our main man in camp), the solution was to have half of the guards and camels from each region.
Kathy's MT work continues to go well, with some tantalising results coming in from the sites at DigDiga and "Two Trees" (their name). The only problem they have had was at one site, which turned out to be prime cattle grazing territory. Again – sorted out after intense discussions with the locals.
[pause for brief interruption to shoo a donkey out of camp]
[second interruption – had to talk to a man about a goat]
David and Talfan have been looking at the volcanoes near the DigDiga camp and making measurements using a field spectrometer (when it isn't broken). Beth and I have been visiting GPS sites. Yesterday we were at a very nice site in a village called Finto – lots of trees, birds, baboons, gazelle and dog-sized deer (Seguri in Afar?) on the way. The way back was somewhat stressful after we were encouraged to take a "short cut" home by the locals in the village. It was indeed shorter, but was completely off road, and took us about 3 times as long as the route in.
Those of us in camp this morning (me, Beth, Talfan, David) gave an English lesson in the DigDiga school. Safe to say the children were very enthusiastic learners, and we expect very polite greetings "Very nice to meet you, Tim" from now on in the village. They attempted to teach us some Afari, but we were pitiful failures.
Our camp swells again over the next few days. Sophie and Shimeles arrive from Addis tonight. JR, Ellen, Tesfaye, Bekele and David arrive Friday. Our convoy of vehicles will reach its peak on Saturday, when we will have 8 Landcruisers, 3 tankers full of Jet fuel and helicopter (from Kenya) in camp…. oh and a twin-engined survey plane (from Oxford) flying above us.
OK – that's all for now. Back to shooing duties.
Tim and the DigDiga Team
26th January, 2008: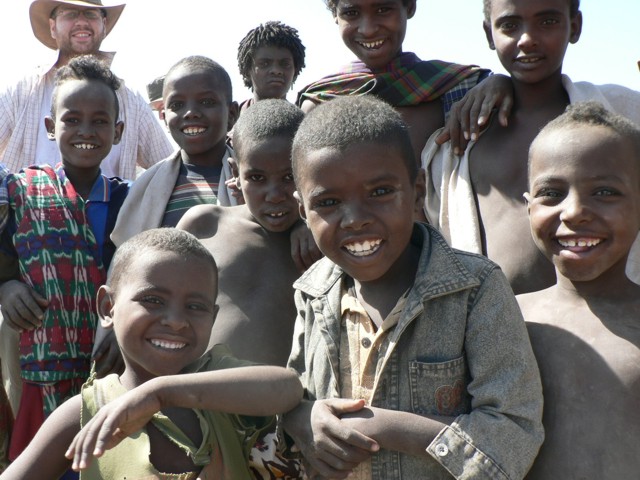 Children of Digdiga village (and James Hammond). Photograph by Tim Wright, University of Leeds.
Here is the latest issue of the DigDongle, live from Afar. The locals here have a process called Dagu. Basically, whenever they meet anyone, they share all the news that they know. This continues until all news has been exchanged and always ends "and then I met you". Think of this e-mail as high-tech Dagu.
The last few days have seen a gradual build up of personnel in camp. Sophie and Shimeles arrived on Thursday; yesterday we were deluged by a gaggle(?) of structural geologists JR, Ellen, Bekele, Tesfaye and others and 3 fuel bowsers (each with driver and assistant). This morning, great excitement in DigDiga heralded the arrival of our helicopter, a 1-year-old twin-engined Eurocopter from Kenya, with pilot Chris, engineer, and military observer.
After refuelling (made slightly more difficult because the fuel tankers did not have the right kit, "you didn't say you would need it"), and a safety brief translated into Amharric and Afari (including explicit instructions to remove the magazines from your AK47 before entering), the helicopter did a series of shuttle runs to the rift centre. The structural gaggle were the first in, followed by Sophie, Graham, Beth, Shimeles and their guards. The flight was about 10 minutes each way a little easier than the 2-3 day camel trek that others have previously taken to the closest of the two sites. JR's structure team will be camping in the rift centre for the next two weeks, and were very happy with their camp site when they rang in this evening. The other team set up GPS and MT sites, and left two guards in the rift for the night. It was the first view of the rift from the air for many, and there were huge dusty smiles all round from Sophie and others when they were picked up this evening.
Elsewhere, the camel trekkers returned to their starting point in Barantu this afternoon. Unfortunately, their camels (with kit, rock samples etc) did not make it back until 9.30 tonight… they have been on a "go slow", following earlier strike action over pay (I kid not). Hopefully all will be resolved first thing tomorrow and they'll be back safely at basecamp in time for lunch.
Speaking of food, we have continued to eat like Kings, thanks to Meron's cooking. Having all thought we would lose weight in Afar, I think many of us are going to have put on a few pounds. The highlight has to be scrambled Ostrich egg, which we had a couple of nights ago, after Abdu presented it to Meron. For future reference, Ostrich eggs basically taste like chicken egg, but they sure do feed a lot more people.
Tomorrow, the annual DigDiga airshow continues, with the arrival of the NERC survey plane, which had flown in from Oxford to acquire high resolution data over the rift centre. They are on schedule to begin flying up and down the rift tomorrow afternoon, and will finish on Tuesday, having collected enough data to support several PhD projects and to keep many of us busy for the next few years.
It's getting late here, so I'll wrap up. Everyone is healthy and in high spirits. Despite occasional hiccups, all of us out here are well set to achieve everything we set out to do, and probably more than we thought possible at times.
OK, I'll now try to sleep, with the usual night time accompaniment of crickets, braying donkeys, screeching cats, yowling jackals, and gentle snoring from nearby tents.
That's all the news for now….
… and then I wrote this e-mail.
Tim and the DigDiga team.