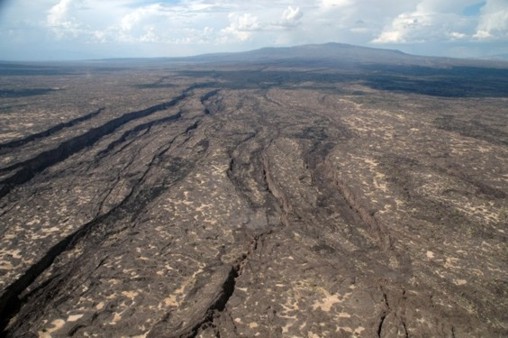 Looking north along the Dabbahu rift segment towards the Dabbahu volcano. Photograph by Elizabeth Baker, Royal Holloway, University of London.
Geology of the Northern Afar Rift
The Northern Afar region is bound to the west by the Ethiopian Plateau and to the east by the Danakil Block. It is a low lying area dropping in elevation from around 200m in the north to 120m below sea level in its centre. The northwest-southeast trending Axial Volcanic Ranges of the Erta Ale, Tat Ale and Alyata volcanic shield complexes dominate the geology.
To the north of the Northern Afar Rift the southern Red Sea spreading ridge splits into southeast and a SSW trending branches. The southeast trending rift dies out while the SSW trend continues through the Gulf of Zula into the Northern Afar Rift. It continues south along the Erta Ale range and then splits again running southeast into the Tat Ale-Dadar range and southwest into the Alyata-Manda Hararo range.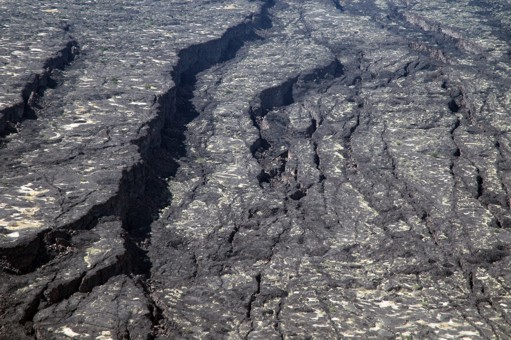 Close up showing the geometry of the normal faults and transfer zones. Photograph by Elizabeth Baker, Royal Holloway, University of London.
Within the Northern Afar Rift, Quaternary extension has thinned the crust to about 16km (the crust beneath continents is typically 30-50km thick) and the rift is below sea level. This extension is accompanied by volcanic activity which has led to the formation NW-SE trending Axial Volcanic Ranges. These include shield volcanoes and deep fissures from which basalt lava regularly erupts. The Axial Volcanic Ranges are up to 80km long and 700m high. They are cut by a series of faults which get younger towards the centre of the Ranges and form step-like patterns across the landscape.